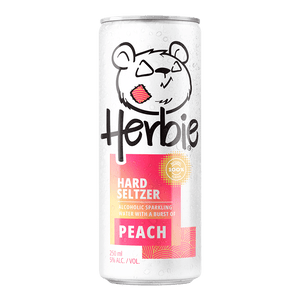 Life's a Peach wherever you are with this stunning concoction! Our refreshingly sweet & luscious Peach Seltzer is an absolute crowd pleaser
and everyone's best friend. After all, who doesn't love Peaches?
At just 95 calories and 1.7g of sugar per serving, Herbie Hard Seltzer is made of 100% natural fruit flavor ad no artificial ingredients. In addition to being vegan and gluten-free, each serving also contains 30mg of Vitamin C. Herbie Hard Seltzer makes it possible for health-conscious drinkers to enjoy a refreshing alcoholic beverage they can feel good about.